In Ruatōria the dead are watching. They stare down from the walls of the Kapohanga a Rangi wharenui on Hiruharama Marae: young men, old men, women and children taken by accidents, by illness, by war. This is the rohe of Sir Āpirana Ngata, who unified swathes of te ao Māori into a single battalion. Moana-Nui-a-Kiwa Ngarimu looks out from near the front door, one of only three Māori to receive the Victoria's Cross.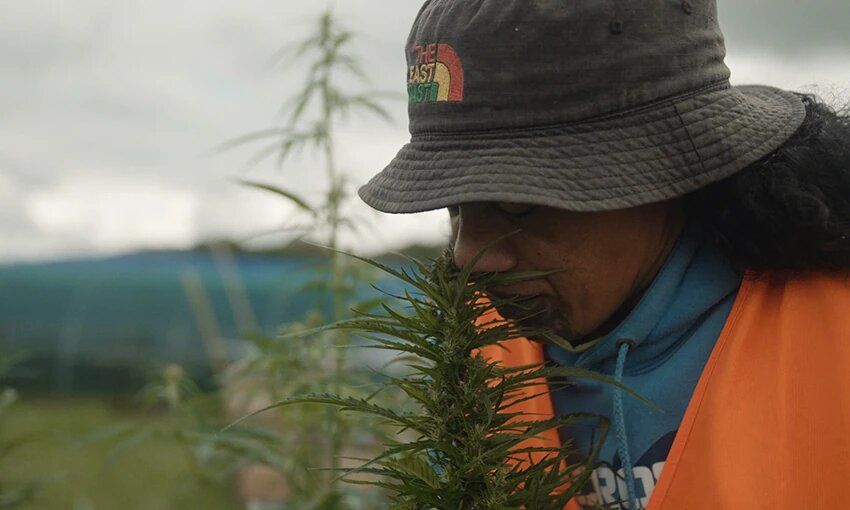 In the latest in the Frame documentary series produced for The Spinoff by Wrestler and funded by NZ on Air, we meet the wāhine behind Hikurangi Enterprises, a cannabis co-op looking to revitalise Ruatōria.
Eliz Ngarimu sits before him, speaking of the war.
"We're still hurting," says Ngarimu. "And that's why our kaupapa is to bring our whānau home."
Ngarimu, who sits on the board of Ruatōria's Hikurangi Enterprises, is one of a cadre of wāhine toa positioning this small, isolated town as the centre of a cultural renaissance for Ngāti Porou. Once forgotten by industry, consigned to the grinding poverty of pine and P, Ruatōria is ground zero for the medicinal marijuana movement in New Zealand – and mana whenua are determined to secure their share.
We walk beyond the marae grounds. Up a gravel drive sits a church, the replacement for one burned down by Rastas in the 80s. There are agapanthus and an urupā. Tamariki used to play here. Underneath the eucalyptus and mānuka, past apple trees and a few solitary pines, across a hidden river crossing, is a plot of hemp, and the beginning of the revitalisation of one of New Zealand's least understood regions.
Ruatōria is waking up. Where earlier there was only the soft sound of mist and drowsy birds, now the air is full of crunching gravel, cries of 'mōrena', laughter. It's Tuesday morning at the Eastern Institute of Training – time to grow some hemp.
The campus resembles a marae, with three buildings, a waharoa, and industrial tea-making facilities. There are communal gardens, a shed, clay umu and beehives out back.
Most of the students here are adults, drawn back into the fold for New Zealand's only hemp cultivation course. But they're far from strangers to the plant. At the front of the classroom are stacked books: Sustainable Horticulture, Eco-Farming, The Permaculture Way.
"If you can't grow tomatoes," says tutor Rob Thompson, his dreads pulled back in a ponytail "You can't grow marijuana."
There is a laundering process here, massaging long-held cannabis IP into codified qualifications. We travel inland, where kanga and comfrey shield row upon row of hemp from the road. In the background is the slosh, slosh of fertiliser being mixed in giant drums. For now, the students hide from the heat. The cicadas drone.
"We're blessed with natural resources, but our people get assimilated," says Thompson. "It's easier to go down to Bunnings and buy fertiliser. But our tīpuna – they were master gardeners."
The hemp that is grown here remains mostly unusable due to a quirk in the law. At the end of every growth cycle the seeds and stems are removed, and the flowers burned. Any medicinal benefits go up in smoke.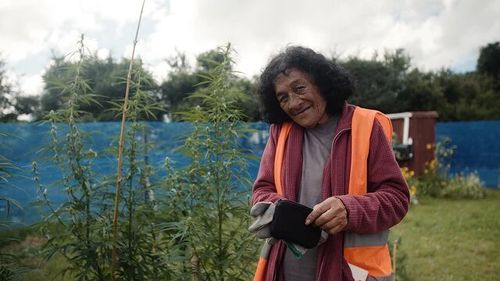 "My name is Noema Walker. I've been a cancer patient for 29 years."
In thick polyester despite the biting sun, Walker stands coy beside her plants, twirling a freshly pruned hemp stem in her hands. Her face is lined like a thumb print, eyes peering between the folds of her laugh.
Known as Nanny by everyone in the plot, Walker tends to these plants as part of her coursework at the Eastern Institute of Training's hemp cultivation course. Born in Ruatōria, she's grown organically for 25 years, using dung and kina and seaweed – just as her whānau before her.
"My mum showed me how to grow kai: Māori potatoes and Māori corn and all those things, my mum showed me. And then how to make kai out of what we grow, pickles and preserves and all that."
After what started as ovarian cancer moved into Nanny's jaw, requiring surgical removal, osteoporosis took hold in her spine. A lump developed between the vertebrates, which calcified, and nerve damage prevented surgery. The medications made her sick, tired and irritable. She turned to cannabis.
"When I couldn't eat it helped me. I told my moko, 'bring me some fish heads, some fry bread, and a joint'. It's a healing plant, like all the other kai we eat, vegetables and brassicas, and that. I don't see it as a crime or anything."
"But my mokopuna worry about me – they're scared I'll be taken away. They learned about P in their hauora class, and they know marijuana is illegal too. But it's different, eh."
Walker has twice been visited by police, and says helicopters have flown above her home in Te Puia Springs searching for plants. The illegality of cannabis hovers over Ruatōria like the spectre of illness. From time to time residents are plucked out, taken away, imprisoned.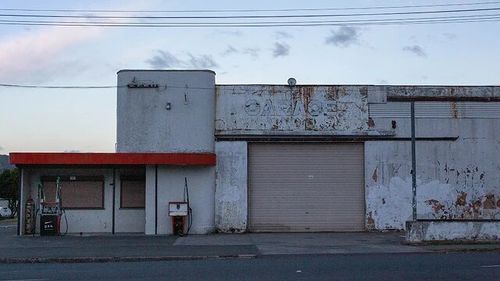 A Ruatoria street scene
Inside the common room at the Tikitiki school, Melanee Paenga is crying. A director at Hikurangi Enterprises and tutor of the EIT hemp cultivation course, she is one of the few young adults employed in the region. Never a user of cannabis, her life has nevertheless followed the cycles of the plant – like many whānau who live around the annual harvest.
"Where kids all get new school uniforms every year, I'd have to wait 'til the middle of the year, harvest time," she says. "It was how for half the year, we could have the things that we couldn't grow. Bills get paid, it makes sure our power stays on. I know it's really important for families around here."
To Paenga, who's acutely aware of the precarious life whānau live on the coast, legalisation would mean an end to an anxiety which permeates every conversation.
"It would mean kids don't have to worry about their dads leaving"
Paenga says there are very few young people in the area these days. There are no jobs, and little prospect of building a life here. When the roads came, people left on them, and they didn't come back. In cannabis, Paenga sees an opportunity to change that.
"To me, teaching people, teaching my students how to grow is getting them ready for either having their own licenses and starting their own businesses to grow or to be ready for when the company's ready to hire people and it helps them stay at home and be part of their communities. It'll go back to how it used to be with so many people here. It'll bring a lot back instead of just everyone leaving."
In December of last year, the government passed its medicinal cannabis bill, setting a one-year deadline to create a regulated scheme and providing amnesty for use in palliative care. In Ruatoria, the machinations of legislation were suddenly very interesting.
"My dad and his friends were sitting outside and every five seconds I was running out yelling 'Dad, Dad, Dad! That's it! That's it! That's it! Dad, you should have heard Labour's come-backs,'" says Paenga. "Him and his mates had big smiles on their faces and it was just so exciting. And I was texting my mum 'cause she wasn't at home. It's like, 'Mum, I watched it all. I hate parliament things. And look, I watched the whole thing, Mum!'"
"It was so exciting. And I know the ones watching it at the classroom, before it even started, they were all like buzzing about like, 'the way it's going, it's gonna pass.' All over campus. The whole day."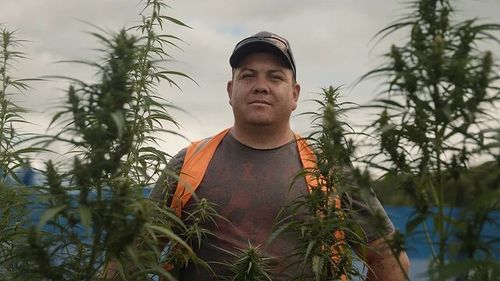 Porourangi Tawhiwhirangi at the EIT hemp plot.
Porourangi Tawhiwhirangi is walking between rows of hemp, his tiny caramel pitbull puppy bouncing along behind. As we speak, the pup curls up on a patch of dirt like a tiny warm potato, dozing in the sun. Hemp leaves cast gentle dancing shadows from above. Tawhiwhirangi moved home in the early 90s. He met his partner, had some kids and got a job in forestry. Then people started to die.
"We've lost too many young people here,' he says. "When I was in forestry training, in our training session, myself and another local guy here experienced a near-miss, where we could have been killed. And the next day after that, the same thing. And, anything can happen, and it's not just negligence on behalf of the worker. You've got to take into the environmental factor too. So, it could be just a little bit windy and they want to cut a tree down, and it comes back this way instead of going that way."
The industry, which many whānau invested in as an alternative to losing their farms during a period of economic hardship, has never delivered the gains that were promised. While jobs were created initially, as primary industry dried up the jobs left, and the pine stripped nutrients from the whenua. Like many providers, Tawhiwhirangi turned to cannabis. But he too knew of the legal risks.
"A lot of people been caught up here in the police eradication, drug eradication. And the types of charges people been charged with here is just, you know, they're really huge things that really cost you doing things in your life. Like a lot of people can't even get out of this country. A lot of people just growing to put shoes on their kids' feet or clothes on their back, food on the table. And they're getting penalised for that, and treated like a criminal."
"Come harvest time, the local shops, they benefit because of the people walking in there with Sir Edmunds, with Āpirana Ngatas, 50s and 100s. And these are the average person, they might be on the dole, and got five kids and struggling, but they can come in and spend because of cannabis."
"I know this industry will go off in New Zealand, I'm hoping that it'll really bloom here. So, it's up to the people and how we can make it work."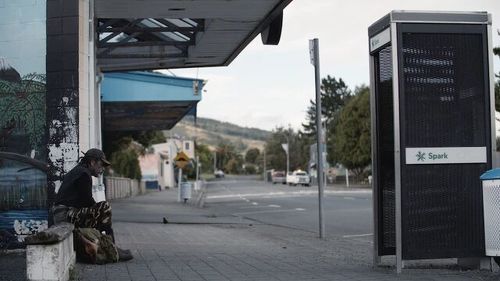 Ruatoria street scene
Just outside the entry to town, the Blue Boar tavern is one of two pubs in Ruatōria which bookend the main strip. Inside, handwriting on the wall compliments the establishment on its burgers; well-priced, and delicious. There's a palpable vibe inside, like the endless nights of drinking and music seasoned the wooden floor and walls. But the beer is all gone, and now this is a place of serenity. There's a massage table, salt lamps, harakeke woven into baskets and ornaments. Women come here to create, and several small businesses are run on site, assisted by Hikurangi's network and financing. Hikurangi Enterprises general manager Mateawa Keelan is pouring kombucha.
"Hikurangi Enterprises is about helping out people to become better whanau," she says. "We try to do this by giving them the opportunity to create jobs, and work in our community, doing work that they find that they can contribute to positively, rather than work that they're just doing a job. We're about creating sustainable jobs in a sustainable environment, in a way that will help our people."
Hikurangi began as an attempt to monetise the region's plentiful kanuka, Keelan explains, researching the bioactive properties of the plant to take to market as a health aid. With funding from a private investor, Hikurangi Bioactives now has three natural health products in independent clinical trials and five more products under development. But it was cannabis that captured the attention of the public, expanding the scope of what change could be brought to Ruatōria. In May last year Hikurangi raised $2 million in a single night on PledgeMe, crashing the website, and registering a further $1.4 million in investment interest.
"People were so keen to go and actually buy shares, which totally overwhelmed us. We didn't realise that there would be so much support for our, what we were wanting to do," says Keelan.
"When that all happened, we were thinking, well we'd better not think of this as $2 million, because it was really freaky. It was like, that's a lot of money. So it was really quite a big thing for us. $1.3 million of that actually came from our whanau, or people from overseas who were related to us. So that support, it spoke a lot for our confidence in what we were doing for our community."
And now, like never before, the stakes are astronomical. Other players are entering the game, well-financed and politically powerful companies like Helius Therapeutics, with none of the kaupapa for good or ill. Keelan says Hikurangi must succeed, Ruatōria desperately needs it.
"Our rate of unemployment is 12%. We have high rates of domestic violence. The drug P has high prevalence in our community, and is wreaking havoc with our whanau. We need something now, some hope to be able to change the way things are going, because people have had enough of going this downward spiral that we seem to be in. We need to be pulling ourselves out. And I think Hikurangi Enterprises has come along at the right time."
"This is Ngāti Porou, this is Māori, this is Hikurangi Enterprises, and we have done this for our people."